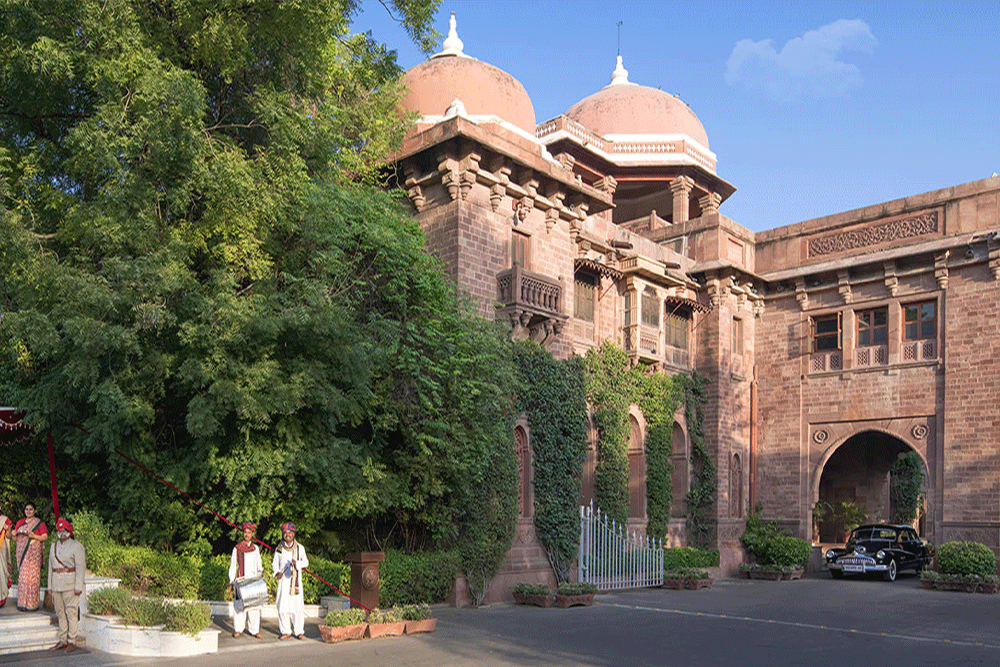 Once the home of Jodhpur's erstwhile Maharaja's younger brother, Major General Maharaj Dhiraj Sir Ajit Singh, The Ajit Bhawan has now been turned into the most accessible 5-star hotel in Jodhpur, is known as the most iconic heritage hotel of the world.
Ajit Bhawan Palace is a royal wedding venue in Jodhpur which organizes successful wedding functions, engagement ceremonies, and reception parties. It is famous for hosting royal weddings at their multiple lawn areas famous. This is a perfect wedding destination to experience how the Royals of Jodhpur celebrated the most important day of their lives. Wedding at Ajit Bhawan palace is indeed a royal affair.
Nestled in the luxurious environs of Ajit Bhawan Jodhpur, the banquet lawn is truly synonymous with a princely state lawn with remarkable settings replete with ornate plants and royal Rajputana artifacts. Well-appointed with modern amenities to meet all the requirements, the Banquet lawn at Ajit Bhawan Jodhpur is a beautiful place that can easily accommodate up to 400-500 guests to host your social and business events.
Ajit Bhawan is a mixture of sovereignty and lavishness that facilitate the most astonishing weddings in Jodhpur.
Ajit Bhawan Palace is one of the oldest palaces in Jodhpur that has been welcoming guests since 1927 and always on top wedding destinations among all with its heritage look and amazing architecture.
Ajit Bhawan Palace offers both indoor and outdoor venues for weddings in Jodhpur.
Indoor venue: Restaurant: 150 max with seating Restaurant: 100 max, seating 45 guests Open area: 5 acres around the pool. We provide vintage cars for transfers between locations within the resort.
Outdoor venue: Garden Restaurant: 250 max, seating 150 guests Zanana Garden: Seating for 250 attendees
KP Events & Entertainment is the best wedding planner in Jodhpur that can customize the wedding at Ajit Bhawan according to the requirement, and style to let you experience the heritage wedding in your budget. We at KP Events & Entertainment can design and coordinate the most amazing wedding at Ajit Bhawan in Jodhpur.