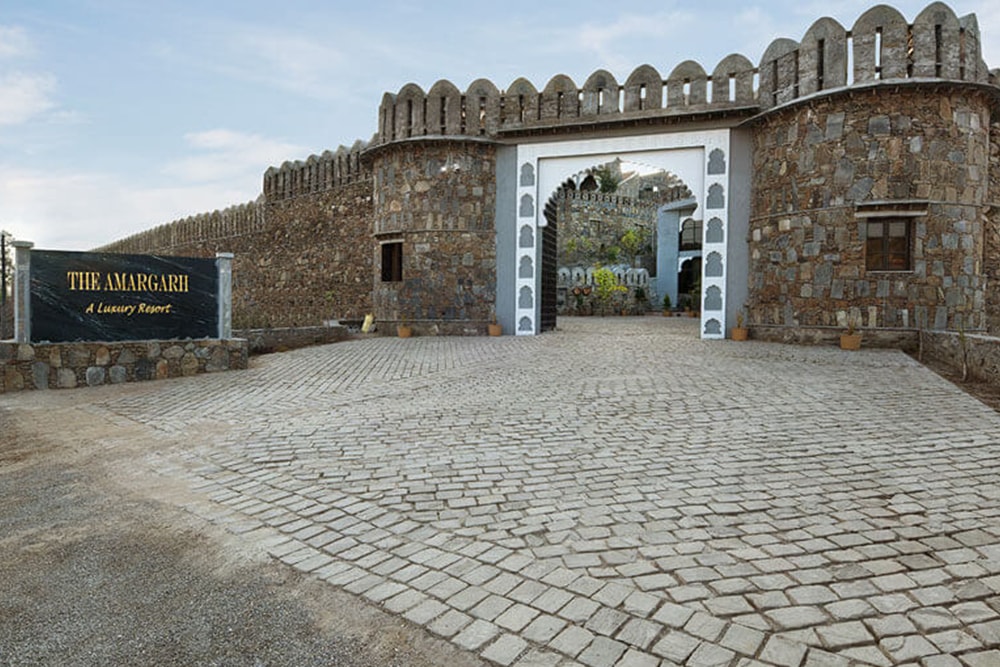 This venue is an ideal choice for your wedding as it can hold lavish as well as a simple and subtle wedding. You can either plan a complete wedding ceremony from beginning to completion or just a few wedding functions as well. The Amargarh hotel specializes in impeccable hospitality while staying true to the tradition & culture of India. Fully facilitated with all modern amenities, all the 36 deluxe rooms have that all your guests & family members would have dreamt of. This is an ideal wedding venue for a small & intimate wedding ceremony in Udaipur.
The Amargarh resort is a famous heritage destination wedding venue in Udaipur which is situated in the lap of beautiful nature and surrounded by greenery.
The marvelous view on the exteriors & interior of this grand palace will undoubtedly turn your big day into a royal event and make it even more memorable.
Amargarh hotel has one of the finest delicacies in both vegetarian and non-vegetarian cuisines which will delight your taste buds and if alcohol is in your list, you may also serve to amplify the pleasure of your guests.
Space Available
The venue can accommodate up to 2500-3000 guests. We have been hosting royal weddings for many years and are often booked for private, personalized, and lavish weddings.
Banquet Hall 1 (Indoor)- 200 Seating | 250 Floating
Banquet Hall 2 (Indoor & Outdoor)- 250 Seating | 300 Floating
Lawn 1 (Outdoor)- 800 Seating | 1000 Floating
Lawn 2 (Outdoor)- 800 Seating | 1000 Floating
Poolside (Poo)- 80 Seating | 100 Floating
Terrace (Outdoor)- 300 Seating | 350 Floating
Restaurant (Indoor)- 60 Seating | 80 Floating
Prices Offered
Starting price of the room- Rs. 6000 per room
Starting Price of Décor- Rs. 350000
Veg plate price (extra taxes)- Rs. 1800 per plate
Non-Veg plate price (extra taxes)- Rs. 2200 per plate
So what are you waiting for? Get yourself & your guests treated royally with traditional Indian hospitality at Amargarh Resort and leave all the things on our strong shoulders to manage and make your wedding ceremony smooth.
Let's plan your special day with KP Events – The best wedding planner in Udaipur, to make it more special.