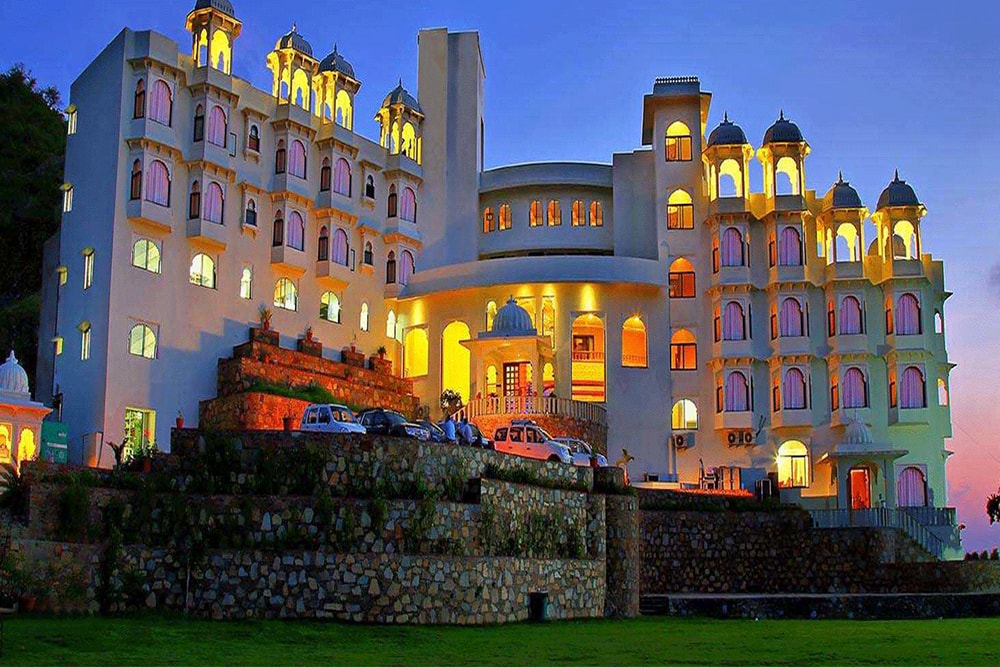 Bhairav Garh resort or Bhairavgarh Palace is a mid-segment heritage resort on the outskirts of Udaipur and one of the best venues for a destination wedding ceremony in Udaipur to leave you mesmerized with its amazing architecture, heritage look & luxury, hospitality and services.
Situated in the heart of a beautiful city of pristine lakes, glorious kings and palaces, Udaipur, this 4-star property has a special spot for you to tie a knot with your loved one and start a new life. Bhairavgarh not only organizes the main day event, but it also lets you have your pre-wedding, post-wedding ceremonies here.
Surrounded by trees, beautiful greenery and natural view, this resplendent venue is graced with lawns and banquet halls for you to celebrate your special events. Whether you want a pre-wedding function, engagement ceremony, or wedding reception, Bhairavgarh Palace Udaipur can accommodate it all smoothly. The sprawling lawn is fit for a regal reception. The palace looks more beautiful when it's decorated with lights and flowers while weddings.
The Bhairavgarh Palace is a venue where one can live like royals, the hotel offers all essential modern amenities to its guests with Indian traditional hospitality according to your style, culture and requirements. It features indoor & outdoor swimming pools, free Wi-Fi access, minibar in rooms, free parking and many more.
Overall, Bhairavgarh Palace is not only a delight for its guests but also it is considered as one of the most popular destination wedding venues in Udaipur. Feel the royal charm and grandeur at Bhairavgarh Udaipur the perfect Wedding Destination. Its beautiful lush green lawns make for a marvelous backdrop to capture the most memorable moments of your special day!
Let KP Events come ahead and manage all the hectic parts for your wedding ceremony at Udaipur so that you could have fun and enjoy the most special day with your loved ones, family and guests. We're a well-known wedding planner in Udaipur and can make your wedding ceremony even more memorable with extensive experience in wedding planning and a team of more than 50 dedicated professionals to take care of each and everything.