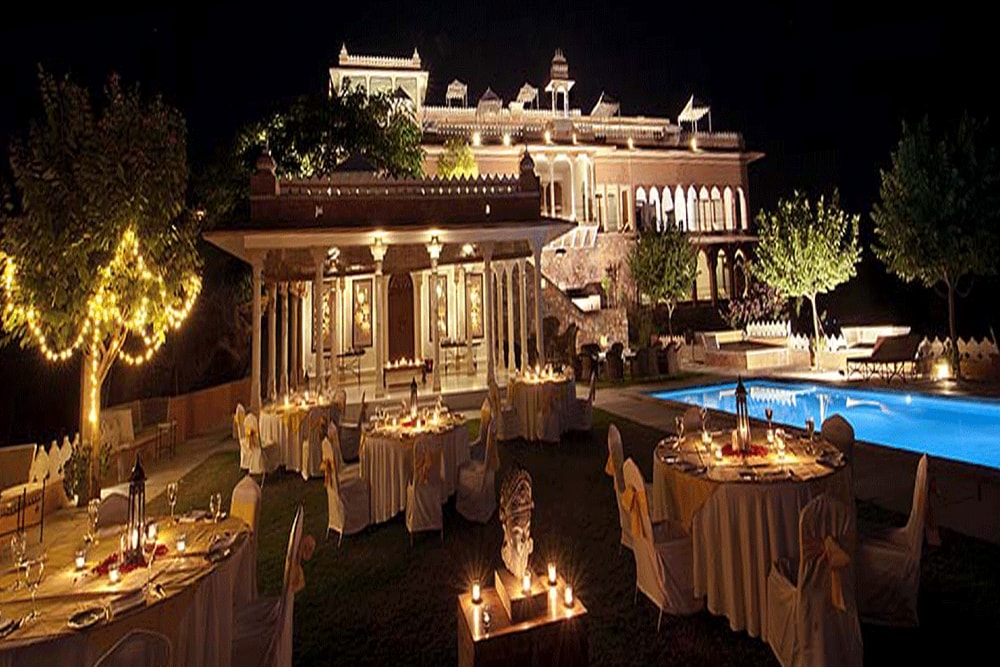 If you have decided on Udaipur to witness the most special day of your life and looking for a luxurious but heritage hotel as a wedding venue then Fatehgarh is the ideal wedding destination for you.
Fatehgarh is an extravagance luxury hotel in Udaipur and a great mix of luxury with heritage architecture of Rajput style with perspectives on the lake and royal residence complex, flawlessly situated to investigate the acclaimed destinations of the Udaipur city that make this venue amazing for a perfect wedding ceremony.
The wedding family and guests can enjoy the beautiful views of the city, lake and mountains. Fatehgarh is a heritage renaissance resort to host your pre-wedding function, wedding and reception ceremony.
The luxurious resort can accommodate approximately 125 – 150 guests with its 50 rooms capacity which makes it sufficient for any size wedding ceremony in Udaipur. The best thing is that you can occupy the entire palace and make it personalized for your guests according to your style & culture and enjoy the traditional grandeur. The hotel has several other venues like Darbar hall, Courtyard, Poolside, Jai Bagh, etc which can accommodate a gathering up to 300-350 guests at one point in time.
We have a team of dedicated professionals who can plan and execute your wedding ceremony smoothly without any hassle. The palatial décor of the venue gives a special touch to your big day. Fateh Garh, Udaipur has lavish rooms for your guests which gives them a comfortable stay.
It has terraces that are ideal for having an open-air function and offers a great overview of the city at night. Fateh Garh, Sarma, Udaipur also has a banquet hall that is ideal for having a small gathering with close family and friends. The venue has an inviting ambiance which makes everyone feel welcomed.
Let us plan your wedding events at the Fateh Garh, Udaipur to make them a memorable one with KP Events – a destination wedding planner in Udaipur.