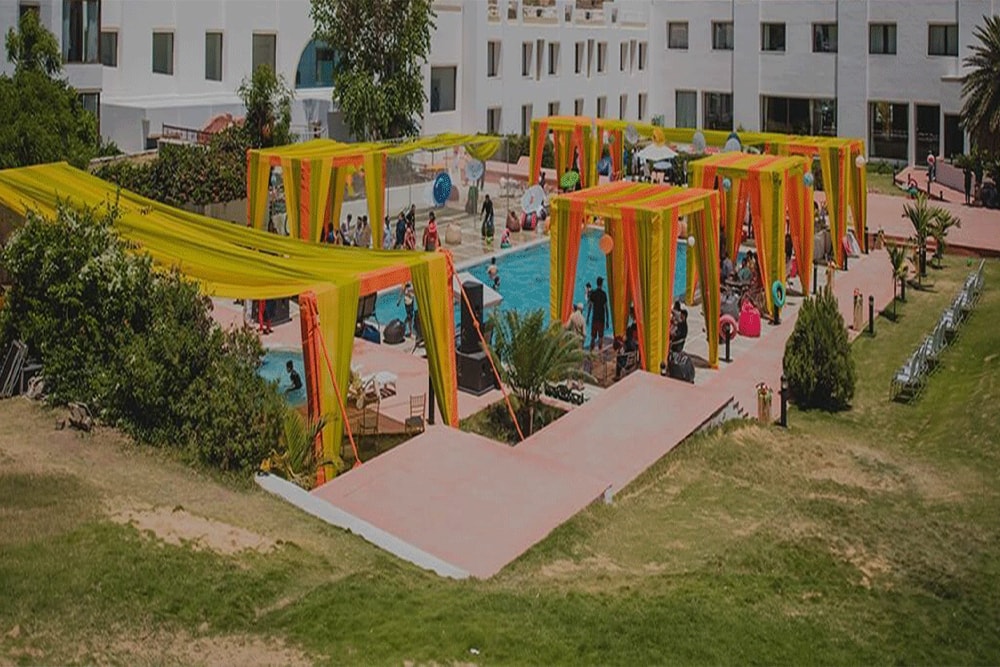 Hotel Inder Residency, Udaipur is an ideal wedding venue to host your pre-wedding, wedding reception & other wedding ceremonies, located on the Shikarbadi Road which makes it easily accessible for your guests to reach there.
Inder Residency Hotel Udaipur offers luxurious & lavish rooms for your guests for a comfortable stay, a sprawling lawn that is amidst lush greenery which will refresh your senses, a spacious banquet hall that can fit a large gathering for your function and even a smaller one for small gathering functions. The venue has an inviting ambiance which makes everyone feel welcomed. Plan your wedding at Inder Residency with KP events for a stress-free wedding experience.
Inder Residency has become a luxurious landmark that welcomes you to the picturesque charm and regal grandeur of the most wedding venue of Udaipur. Nestled among the plush greens, misty hills and breathtaking lakes and ponds of Udaipur, this grand five-star hotel is sprawled across 3.75 lakh sq.ft. area and is ideally located, with the airport and the railway station within easy reach.
Hotel Inder Residency has great hospitality services and banqueting facilities to offer your guests with and ensure a beautiful wedding celebration. Some of the famous banquet halls are Kohinoor hall, prince garden, poolside lawn.
The guests can comfort like a royal as well as enjoy the flavorsome delicacies in both vegetarian and non-vegetarian food at Inder Residency. The lavish décor of the venue gives a special touch to your big day.
The Inder Residency has a lot of space to host even a large wedding smoothly with its magnificent space capacity including the town's largest banquet hall. This property can accommodate up to 1000 guests at a time.
Hotel Inder Residency has the capacity to accommodate 600 guests at its venue and make sure that you and your guests have a great event experience at the hotel.
Make your and your guest experience more memorable with an experienced wedding planner in Udaipur – KP Events