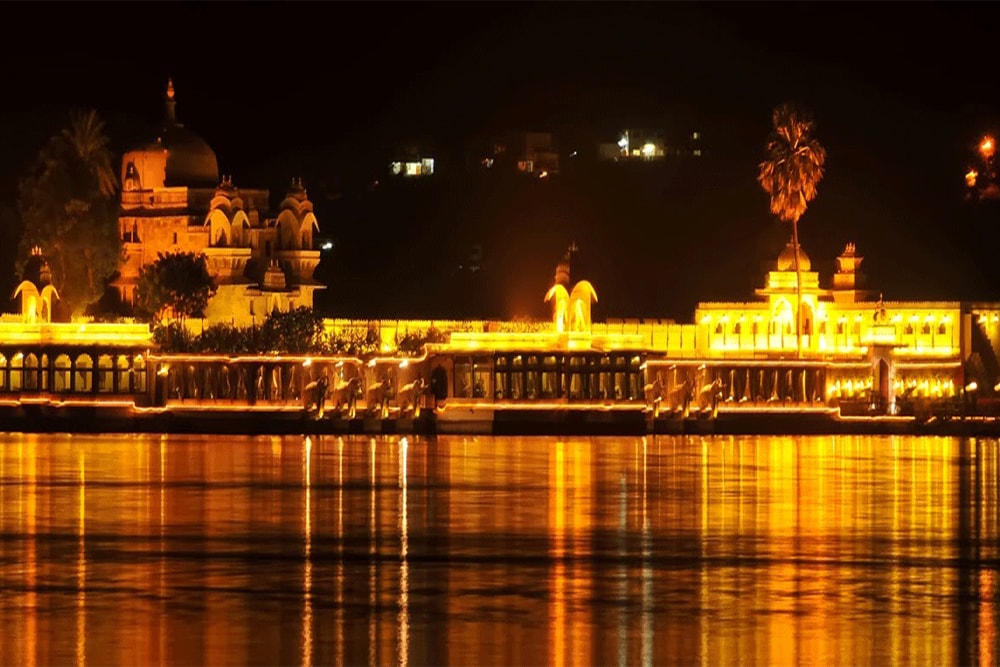 Jagmandir Island is a well-known wedding venue for hosting celebrity weddings since it has hosted so many national and international celebrity weddings. Jagmandir Island Palace is often referred to as the Garden of Heaven where one loves to organize parties, weddings, events of different kinds and other types of gatherings and celebrations.
It is claimed that Shahjahan of the Mughal dynasty derived his inspiration to build the Taj Mahal from this island. This claim makes this palace and whole event even more romantic.
This island hotel is a perfect venue for a dream destination wedding and provides you an opportunity to get married at an exclusive venue situated on an island in the middle of a lake with stunning views of Lake Pichola and Aravali mountains. The venue is surrounded by a lake that is quite large and this makes the venue look serene and elegant.
Being one of the most exquisite wedding venues in Udaipur. Jag Mandir was a royal palace that is turned into a luxurious & premium hotel and it also belongs to the HRH group of hotels, which has 3 impressive lawn areas, that can be utilized to organize various wedding functions and ceremonies. Jagmandir is primarily a Venue only for celebrations and only has a couple of Rooms to be used during events. It's the most magnificent option of all. It has 3 sections – the main courtyard, kunwarpada lawns and the main lawns at the back.
Jagmandir is an ideal wedding venue for those who wish to have a grand wedding ceremony.
Revel with your guests in this unique floating Palace wedding destination where royal butlers are able to discern your every need and anticipate your needs even before you know they exist.
Services/Facilities offered by Hotel:
Your hotel package for a wedding includes:
Suites (up to 7).
Reception Dinner.
Spaces for the various wedding ceremony and reception.
Multi-event space
Basic lighting, electricity & power backup
Furniture
Bridal room
Service staff
Alcohol license
Guest accommodation
Multi-cuisine platter
Full bar & restaurant
Transportation services
This grand property is a beautiful and elegant venue that can accommodate 1500 people.
When you plan a wedding at Jagmandir with KP Events – a wedding planner in Udaipur, then you don't need to worry about wedding decoration, catering, menu, hospitality, guest management as our professional and friendly team can handle these things smoothly to make the wedding ceremony awesome.