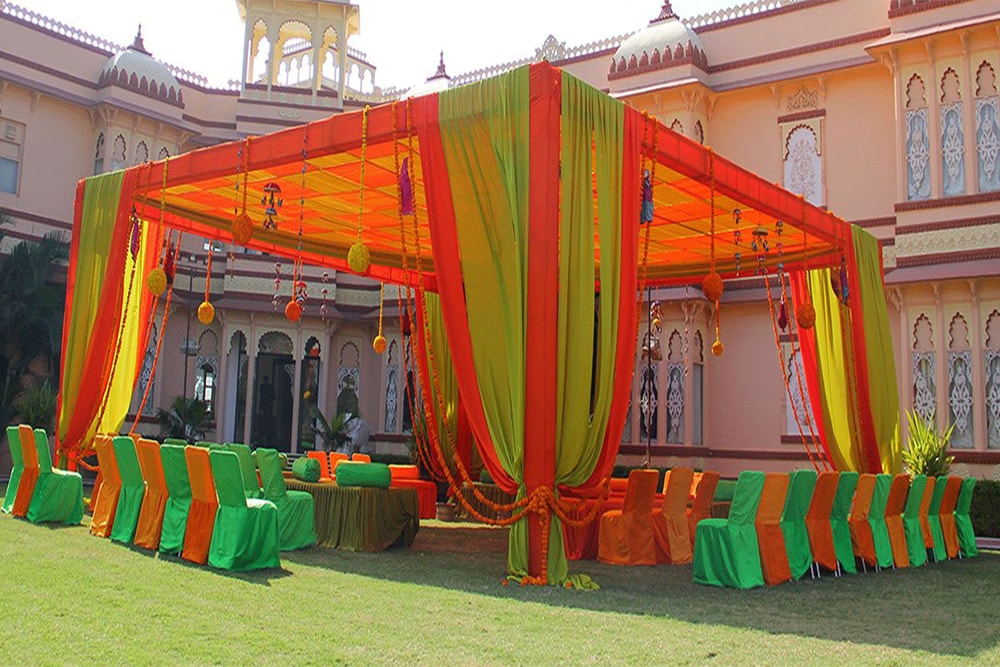 Heritage royal architecture, Rajput tradition, luxury and world-class hospitality, that describe this premium hotel perfectly which offers one of the exotic venues for a destination wedding in Udaipur, Rajasthan.
Situated in the heart of the city of lakes, Udaipur, set amidst the lush green Aravallis and surrounded by lakes, Justa Rajputana resort is a perfect place to celebrate your cherished events in style and splendor, this resort can host a either a few wedding functions or a complete wedding ceremony with its amazing capacity of 54 lavish rooms capacity, multiple party areas, stunning lawns, beautiful banquet hall and more. It has that all that is needed to make a wedding an extraordinary grand event. This wedding venue in Udaipur can host up to 1,000 guests with its 4 sprawling lawns
Justa Rajputana is a palatial resort and hotel that makes it the perfect place to enjoy the wedding at Udaipur and to unwind. It is a 4-star hotel that provides a tranquil experience while providing easy access to the many tourist spots around. Justa Rajputana, Udaipur Resort offers great facilities and modern amenities, making it the ideal choice for weddings in Udaipur. If you're looking for a destination wedding then this place is perfect for taking wedding vows.
Cuddled by ochre and purple ridges of the wooded Aravalli Hills, and a fast-flowing Lake Pichola as a backdrop, scores of Palaces, Havelis and Temples will add an extra charm to your dream day wedding.
Doesn't matter how big your wedding is, this hotel can host even large weddings smoothly. This wedding venue in Udaipur is famous for its global hospitality services and luxury.
Make your wedding more exotic with KP Events – A wedding planner in Udaipur.